Last month, Orlando played host to the Microsoft Ignite Conference — a place for people across the IT industry to learn from the best in the business, network with other like-minded people and discover the latest technology in productivity, security and infrastructure.
In terms of upcoming updates, the conference didn't disappoint. Microsoft announced new innovations across its subscription services in six key investment areas: productivity, knowledge, workflow, security, compliance and management.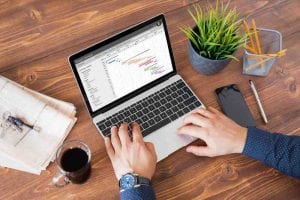 Productivity
Productivity updates to look forward to across Microsoft's 365 suite include private channels, meetings and calls, multiwindow chats, and pinned channels in Teams, as well as task integration with To Do and Planner. Collaboration capabilities between Outlook and Teams will also be improved, making it easy to send an email thread to a Teams channel for further discussion.
The new mobile Office app will also simplify and improve working on the go — allowing users to snap a picture of a document and turn it into an editable Word file or transform tables from a printed page into an Excel spreadsheet.
Through the magic of artificial intelligence (AI), desktop Office users will also be able to convert audio files into a written transcription, enter data into Excel with a digital pen and become more effective presenters through Presenter Coach in PowerPoint.
Knowledge
Productivity isn't just about being more efficient, though. It's also about gathering and applying the collective knowledge of a company to help everyone achieve more. Using AI, Microsoft 365 will now be able to identify, organise and deliver knowledge across organisations to provide the right information, at the right time.
For example, Microsoft announced the launch of Project Cortex, the first new service in Microsoft 365 since Teams was released. Project Cortex makes use of the latest AI technology to create a knowledge network that looks at organisations' data and automatically organises it into shared topics and then delivers it to the relevant people.
Workflow
Workflow innovations will encourage businesses to streamline and improve operational processes, helping businesses to save valuable time and money.
Office Scripts will allow companies to automate repetitive tasks and simplify clunky processes. At the conference, Microsoft introduced scripting in Excel, which will enable users to record actions inside a workbook and save it to a script. The saved script can then be integrated with Power Automate and scheduled to run automatically or combined with a larger flow.
Security
The latest AI-powered features will also make it easy for organisations to secure valuable data, without interfering with employee collaboration.
Passwords continue to be the weakest link in cybersecurity. But thanks to new updates, any customer with an Azure AD plan will now be able to use the Microsoft Authenticator app for secure, passwordless access to both Microsoft and non-Microsoft apps.
Compliance
Risk management will also benefit from new AI innovations, which will help companies stay one step ahead of evolving threats and complex compliance requirements.
At the conference, Microsoft showed off the public preview of Compliance Score, which will enable organisations to simplify and automate risk assessments by continuously evaluating and monitoring data protection controls — all whilst getting clear guidance on how to improve their score.
Microsoft also announced the new Insider Risk Management feature in Microsoft 365, which will allow companies to quickly identify and take down insider threats, risks and code of conduct policy violations.
Management
Finally, Microsoft announced several improvements to the Office 365 Groups admin experience, including new lifecycle management and compliance capabilities.
Managers will be able to quickly create teams for a group, browse and restore deleted groups, edit the group email alias and use sensitivity labels. Self-service group creation and management will also authorise users to create teams and Yammer channels that are controlled with policies set by IT. 
These developments are just a snippet of what's to come with Microsoft 365 — there are plenty of other exciting new updates coming soon. But across all these new features, there is one clear and consistent theme: AI.
As a Microsoft partner, you can trust Pro Drive IT to deliver the best software for your business. Contact us today to see how we can help you!