Many businesses add email banners to their email systems to serve as warnings to recipients – but they are often ineffective, resulting in thousands of users falling for cyber scams each year.
As providers of cybersecurity services, we partner with Mimecast, the email security expert. They have developed a solution using Advanced Intelligence (AI), which addresses the problems and it's called CyberGraph. We explain what this is and how it works to smarten up your cybersecurity in our video here.
CyberGraph intelligent email banners
CyberGraph uses Artificial Intelligence (AI) to protect from evasive and hard-to-detect email threats, limiting cyber attackers' ability to carry out reconnaissance and mitigating human error.
CyberGraph does this in three key ways:
1. Disarming email trackers: sophisticated phishing campaigns often include the use of trackers, which allow cyber criminals to learn about user behaviour to create more compelling attacks. CyberGraph strips trackers from email, blunting this important tool in many threat actor's kit bags and restricting their ability to compromise your security.
2. Creating an identify graph: CyberGraph uses AI to learn behaviours and create an identify graph, which stores information about sender and recipient relationships and allows Mimecast to identify unusual or suspicious emails.
3. Contextualised banners: many organisations rely on banners to highlight external emails that look suspicious, but they rarely present enough information for the user to make an informed decision. CyberGraph adds context to these banners, giving users much more information about the level of risk and why an email has been flagged as suspicious. It also colour codes the banners to engage and empower users at the point of risk.
Below is an example of some of these banners.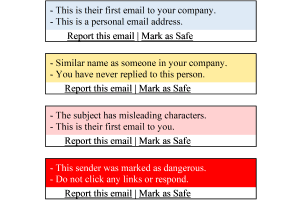 If you'd like to know more about intelligent email banners please contact us below.