In the first of our three-part series on legal practices and remote working, we ask 'is someone reading your client data whilst your staff work from home?'
The current lockdown might be drawing to an end but having staff working from home looks like it may be with us for the foreseeable future. Some people might have a flexible arrangement on a permanent basis.
Your legal firm may be well practised in remote working and your staff make video calls and carry out virtual client engagements expertly. But have you had a qualified professional review of how safe your staff home IT setups are?
If not, you may be sitting on a ticking time bomb. Here's why…
Ticking Time Bomb for remote working law firms
Pre-pandemic, most forward-thinking law firms became Cyber Essentials certified. Cyber Essentials is the UK Government standard for securing your IT equipment and systems. In fact, the Law Society's latest LEXCEL standard made it mandatory.
However, these certifications would have been based around an office IT setup which was designed and installed by professionals. They would have used business IT approved equipment that is most likely monitored and maintained regularly.
Home IT setups are at best installed by hobbyists – but more commonly by people with little or no IT expertise. Equipment is often supplied free by an internet provider, or consists of 'smart' devices purchased from Amazon or PC World etc. They are usually not maintained and certainly not monitored.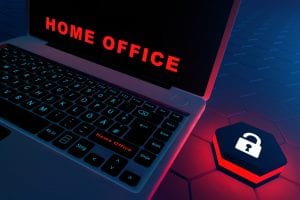 There is a reason your office is not set up like this – and that is because home IT setups are most often an open invitation to cyber criminals.
Your data at risk
Consider for a minute what your employees are doing when working from home. You have probably been advised that they should be using a company computer – so you have supplied them with a laptop. That's a good start.
However, your work laptop is open to attack if they are using it on the same network as a poorly set up internet router, smart cameras, lightbulbs or other connected devices. Or any other personally owned computers which may not have the latest and greatest security software.
In fact, there has been a marked increase in cyber attacks since the beginning of the Covid pandemic, as cyber criminals have been helping themselves to the feast of vulnerable IT systems presented to them.
Two in five businesses (39%) and a quarter of charities (26%) report having cyber security breaches or attacks in the last 12 months, according to figures from the Department for Digital, Culture, Media and Sport (DCMS).
Risk to your practice
So how does this affect remote working law firms? What are the risks to your practice? Essentially, all the reasons you improved your office security apply again when working at home. You are handling valuable personal data and cyber criminals will seize any opportunity to either steal valuable data for sale, or use ransomware to blackmail you.
A successful attack could ruin your reputation. No one wants to put business at risk, especially at a time when it may be more difficult to replace and clients have more time to research the competition.
Get in touch now for a free assessment of your remote working setup and practices by completing the contact form below or calling 0330 124 3599.