We show you how to create simple staff surveys (in 10 steps) to find out how your team are doing and improve their engagement and productivity …
With remote working having become normal for many organisations over the last year, one major challenge faced by line managers is keeping their teams engaged and making sure they're happy.
Many people are finding working from home and the lack of direct social contact a real challenge.  It has impacted the mental health of the nation's workforce – and an unhappy or unwell member of staff will not be good for the health of your business.
Of course, there is no substitute for talking to people.  At Pro Drive we have deliberately increased the number of company and one-to-one meetings to ensure we are checking in regularly with our team.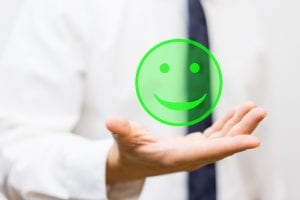 However, it can also be useful to seek feedback through other methods. People may tell you things they don't feel comfortable discussing on a one-to-one – especially if comments are anonymised.
Surveys are your friend!
This is where the power of the survey comes in!  Staff surveys have become an even more important tool for Pro Drive since the COVID pandemic began (although we have used them for years).  There are dedicated systems on the market to create them but you can make a simple survey directly within your existing Microsoft 365 service as well.
To find out how, read the short guide below or watch the accompanying video here.
How to create simple staff surveys in 10 steps
To get started you need to go to Microsoft Forms and log in with your Microsoft 365 account.
From here you create a new form using the 'New Form' button.
Give your form a title and start adding questions by clicking on 'add new'.
You now have a choice of question types, including some advanced options, by clicking the down button at the end of the options bar.
Add all the questions you want. Our advice when doing this is to:

Keep it quite short and easy to answer – make most questions multiple choice.
Don't make the name a required field (allow people to answer anonymously).
Always have one text box for people to write their comments.
The net promoter score is a very powerful measure of how well you are doing. You should use this question.

To make the form anonymous (important) go to the three-dot menu in the top right of the screen, select 'settings' then under 'Who can fill in this form', select 'Anyone can respond'.
Once you are finished, click 'Theme' in the top right of the screen to add some colour!
You are now ready to share the form. You can do this by clicking 'share' in the top right of the screen.  Our suggestion is to copy the link and share it in Teams.
To collect the results, go back into forms, find your form then click on the responses tab.
You should be able to see the summary page or download the results in an Excel sheet.
If you are not sure where to get started then try using this handy template we have already created.
Happy surveying!
If you have other IT support or cyber security issues that you'd like to discuss, please contact us on the form below.