Our IT tips for projecting a professional image and being more productive using video conferencing best practice.
Accountants are the professional 'sounding boards' and facilitators for clients on all manner of business issues from cash flow to tax to mergers and exit strategies.
We offer dedicated cyber security and IT support for Accountancy Firms. 
As experts in your field, you are the trusted mentor, providing practical business – and personal – advice and dealing with complex financial matters on a daily basis. These areas alone (and there are many more) require a focused, professional and sensitive approach and there are never enough hours in the day …
… enter the COVID-19 pandemic! Many people start working at home, then return to the office and now some could be there while others are back logging in remotely again. And the same applies for your clients. Video conferencing takes off big time.
Why do you need tips on video conferencing best practice?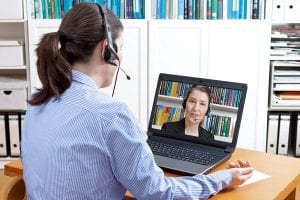 There are many reasons. Not everyone is a technical expert; they may not have training in how to use the functions and features of, say, Teams or Zoom video conferencing software. They might be working out of a bedroom or similar space at home, carrying out their normal roles on their personal laptop and home network – none of which may have the appropriate apps and professional cyber protection that they should have.
As an accountancy practice, you aim to project a professional, confident and friendly image. You no doubt dress for the part – maybe a suit or other smart attire. And, when you're in the office, you might invite your clients for meetings in a pleasant meeting room/s reserved especially for such things. But what about online meetings?
So many businesses have struggled to present the same, sharp image (in all senses of the word) online in video calls. Just as you wouldn't turn up for an office meeting looking tatty, you don't want to be portrayed like that online – do you?
7 solutions for video conferencing best practice
1. Don't be late to the party
One of the first mistakes is to not leave enough time to ensure you can connect well to your other contacts – and for testing your sound and video before the meet starts. Do a test call before you unmute sound and switch on video – nothing worse than seeing half of someone's head or not being able to hear them because they didn't get organised beforehand.
2. Office set-ups
If you have more than one person joining the meeting from the office, you should have a proper video calling set-up there. These are not expensive and all you need is a TV, spare computer and something like this.
3. How to avoid looking and sounding like you're in a public convenience!
• OK, so we hope it doesn't ever come to that (!) but wherever you're working, if you're looking 'less than your best' in video meetings, it's tempting to keep the video turned off. This is a shame because clients will appreciate seeing you on the video call and not just an impersonal ID screen. It builds relationships. The answer is to invest in a good quality webcam. Look for features like Full HD video and HD auto light correction. If you can, avoid buying kit that's priced less than £100 – you tend to get what you pay for with these! Ideas here.
• Hands up if you've been told by someone that you're sounding echo-y or there's feedback during your video meeting? You've probably heard others sounding like it too. Always do a test call. If you want to avoid the dreaded echoes and screeches, buy a decent conference camera (with microphone and webcam). These are also great if you want to record polished presentations. Ideas here.
4. Enhancing sound and avoiding noise distractions
If you do a lot of conference calls it's useful to have a decent headset that works well with tools like Teams. Here are some that provide reasonable comfort and good connectivity.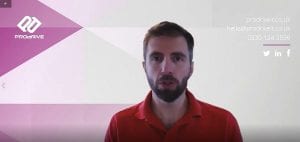 5. A corporate – not comfy – look
So now you have the equipment sorted out, you need to consider your image in terms of presenting your corporate identity on video. People do relate to a slightly more relaxed look as a result of the pandemic but that doesn't mean you should 'let it all hang out'. You may be working out of a back bedroom – or alone in the office – but your contacts don't need to know that. At minimum, you can choose from the basic virtual backgrounds provided by Zoom and Teams – but a more professional approach is to get your background designed with your corporate logo and colours and add it as a custom background. This is easy to do on these sorts of platforms. You save the design on your device and simply upload it and apply.
6. Green screen to make your competition green with envy
If you have a computer that isn't capable of handling a virtual background you may see a warning and be urged to get a green screen. Another sign that you might need a green screen is if you notice that you look very distorted against your virtual background. You place the green screen behind you within the area your video camera 'sees'. Avoid wearing anything green though! You can buy them online at sites like Amazon. We recommend a wrinkle- free background so check before use. Also, good lighting will help.
7. Train to gain
You wouldn't expect to be able to do an expert job as a professional film-maker without training would you? Yet many, many businesses are using video conferencing equipment every day without providing any help to their staff. Take a look at our blog that provides links to some great free training on platforms like Zoom and Teams,as well as a host of others.
We hope you find these tips on video conferencing best practice useful. We haven't covered cyber security here but please see the blogs on our website on this subject.
We provide IT Support in Surrey, London and beyond to accountants and other financial services' providers. If you'd like further information, please contact us on the form below.