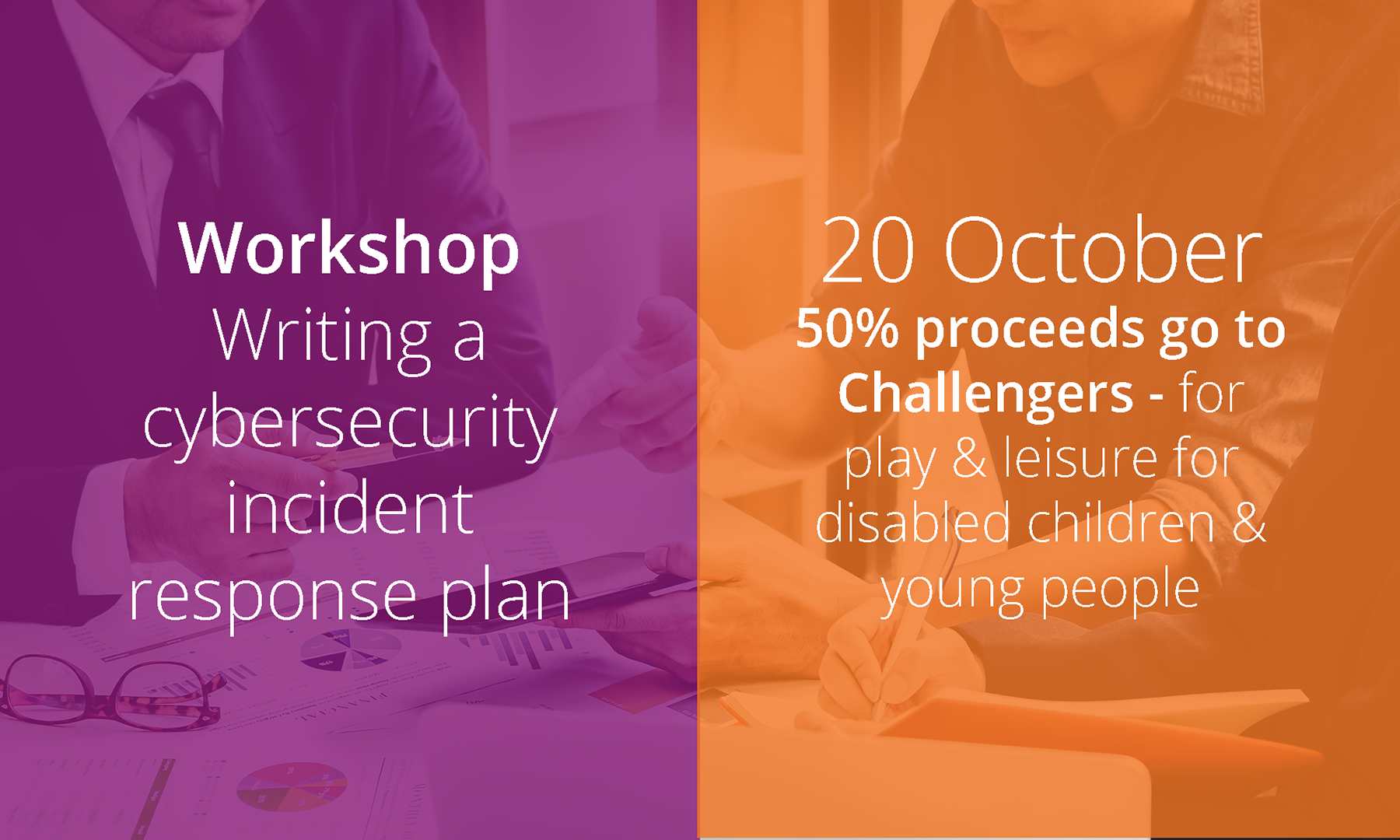 Workshop: Write a Cyber Incident Response Plan
October 20, 2022 @ 8:45 am

-

1:00 pm
Do you have a coherent plan all your staff can follow so they know what to do if you have a cyber attack?
Sadly, as cyber crime has become more sophisticated and widespread, it is more a question of when rather than if your business is going to be attacked. What would happen to your business if you have a cyber attack? Here are a few outcomes:
Disruption that could take down your business.
Loss of valuable and sensitive data.
Having to tell clients and other stakeholders what has happened.
Potential fine by regulators like Information Commissioner's Office – and others (especially if you're in a regulated business like Financial Services, Accountancy, Law and Energy).
Loss of reputation and – in some cases – your entire business.
You may know this. You may have attended briefings about how to protect your business against cyber security attacks – or even webinars on how to write a Cyber Security Incident Plan.
So, what have you done as a result? Have you written that Cyber Security Incident Plan to follow, outlining actions that need to be taken and who must be involved or notified?
Don't waste time. Sign up to a short workshop with us on writing a Cyber Incident Response Plan and get it DONE.
When you complete the full day workshop you will have:
Written a Cyber Security Incident Response Plan for your business to use in the event of a cyber attack.
Learnt who needs to be involved and what they need to do.
Found out who will need to be notified.
Discovered what steps must be taken and in what order if you experience a cyber attack.
The Cyber Security Incident Response Workshop costs £200 per person and we'll donate 50% of our proceeds from this event to the charity Challengers.
With a maximum of six people, make sure one of them is you! You'll get all your questions answered and the session is tailored to your business needs.
Arrive at 8.45am to start the workshop at 9am. There will be refreshments before finishing at 1 pm.
ABOUT YOUR WORKSHOP HOST AND PRESENTER
Bruce Penson is Managing Director of Pro Drive IT and a cyber security presenter with many years' experience in the IT sector, especially with Professional Services, Financial Services, Legal and Energy industries. He enjoys helping people use tech to do business better.
Challengers gives disabled children and young people the opportunity to play, have fun and make friends in a safe and supportive environment at Pre-schools, Playschemes and Youthschemes across the South East of England.