Your IT strategy could help you smash your business goals and keep control of everything on your list, from the bigger picture to the everyday tasks …
We can't stress enough how important this is. Define your IT strategy – or your business could be defined for a lack of it – for all the wrong reasons (we're thinking about cyber security aspects in particular here)!
This article looks at how the right tech strategy will help you: prioritise what's important, manage growth during and after the pandemic, improve staff engagement and productivity, nurture profitability, leverage the right data and – most crucially – protect your business from cyber attacks.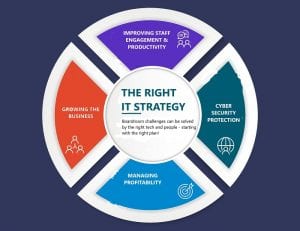 First of all, consider what the road ahead is looking like for you.
Where will you be physically located? You might have decided that once it's safe, everyone will work at the office – or a mix of both office and home working – or you might want to stick with a full remote work model. How will you compete with others – will you be in a position to keep ahead?
To manage the demands of the business and the pace of change around you, you must be able to rely on your IT infrastructure.
If you don't have an IT strategy in place, struggle to understand how your IT can work better for you or simply don't know how your tech stacks up in the modern connected world, you need to take action.
Practically every single challenge facing CEOs and other leaders today relies upon IT in some way to solve it.
5 Boardroom challenges that can be solved by the right tech & people
Building a plan and strategy that works for the business – changing times require a new plan! Start with the right IT strategy, because this will ensure you have the tools to address the rest of your business plan! It will assist you in organising and executing your projects well. You can focus on getting things done in the best way to get the results you want.
Managing profitability – as a result of the pandemic, many businesses are having to focus even more on the bottom line. The right tech will save money by streamlining operations, ensuring peak performance and shared resources across the business. It will enable you to leverage the right data and gain valuable insights into your performance.
Growing the business – the right systems and apps will not only help you manage growth. When recruiting, stats have shown you are more likely to attract the best talent if your business can promote its utilisation of up-to-date technology. Younger people in particular look for firms who invest in tech.
Improving staff engagement and productivity – your tech (hopefully!) saved the day during the COVID-19 pandemic, allowing for remote working. The next step is to ensure your IT Strategy includes having better ways to collaborate and communicate, both internally and with clients. What may have been OK during lockdown, will leave you behind the competition if it's not as efficient or effective. There are plenty of useful apps that have been updated over the past year, which will improve your business image. They will also ensure that your people are all working 'on the same page', aligned with goals and values.
Protecting your business with effective cyber security – you hear about firms – especially those in regulated industries like law, financial services and energy, getting bad press – and bad reputations – as a result of outages and cyber security lapses. It's a serious worry for business leaders. Protecting your business against cyber crime, wherever your staff are working, is essential because there has been a massive rise in attacks over the past year. Is your current IT strategy covering all bases and making your firm more secure or resilient to a major disaster? Does it need Cyber Essentials for example?
The IT strategy framework to drive your business
Getting to where you need to be with your technology is about so much more than just investment. It requires innovation, governance, measurement and engaged people. It sounds time-consuming doesn't it? But for all the reasons above, it is a 'must do'.
We have an IT strategy framework focused on six core pillars, which makes the process straight forward and achievable.
The six pillars are:
Budget
Insight
Productivity
Service
Security
Continuity
If you've read this far, you're probably thinking 'yes, I need to tackle this!' It can feel overwhelming but it doesn't need to be.
Have a chat with us about next steps – we can help you define how your IT can deliver more — looking at cost savings and other quick wins, as well as specific projects.
Contact us on the form below – it will save you time and worry in the long run!