Pro Drive IT's Technical Director Matt Taylor shares his thoughts on how automation can benefit SME businesses:
I recently attended a workshop with staff from two other technology firms about to discuss how we can leverage automation to help our client's businesses and Pro Drive's too. Every business big or small could benefit from automating more of their processes.
If you're not sure this applies to you, ask yourself these two simple questions:
Does anyone in my business have to enter data manually into more than one system?
Is my business using spreadsheets that are accessed by more than one person?
If the answer to either of these is "Yes", then your business could benefit from automation.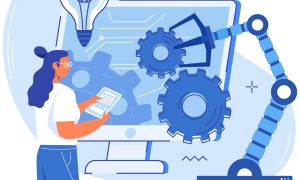 Topics covered in the workshop included:
Microsoft Power Apps
Collaborative editing in Excel has gone a long way to improve efficiency (if you're not able to have more than one person at a time edit a spreadsheet get in touch!), but where you have multiple touch points and / or multiple people entering & viewing data, you should really look at PowerApps and by extension, PowerBI.
Artificial Intelligence
From fully integrating AI into your business systems all the way down to simply asking ChapGPT to analyse some data for you, AI can be an incredibly useful tool for businesses to save them time and money. Try asking ChatGPT to summarise a long report for you and see how much time you could save vs. reading it / summarising it yourself.
Integration and Robotic Process Automation
Many businesses run on Cloud Services these days, and most of the major software vendors have developed integrations so these applications can communicate with each other and negate the need for manual and repetitive data entry. Even where native integrations don't exist there is usually a 3rd party solution that can provide the link or help with automating repetitive tasks.
What could you gain from automation?
Professional service businesses are finding it hard to recruit good staff and employees come with ongoing costs such as salary and benefits. Automation can allow existing staff to work on more challenging and worthwhile tasks without the need to hire more staff, with the added benefit of saving on recruitment fees too. Humans are prone to making mistakes, especially on boring repetitive tasks where machines will be more accurate.
If you want to save money and add capacity without hiring new staff, get in touch with us using the contact form below.  We will help you work out if there is a return on investment from automating more of your business processes.