Remote working presents huge cybersecurity risks for businesses because home networks aren't generally set up properly to prevent attacks. Here are the reasons why and what you should do …
Many weeks have gone by since we all had to re-deploy our staff to work from home. Most firms have adapted well and, by and large, we've found a new way to run our businesses.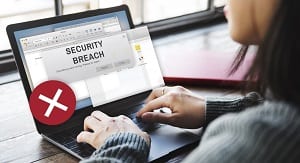 However, there's an elephant in the room, which companies are either unaware of – or trying to ignore – the increase in homeworking has blown a massive hole through most businesses' cyber defences.
Cyber security risks – are they bottom of your list of priorities?
Why have companies who have previously been diligent about their cyber security allowed these vulnerabilities to happen? The most obvious explanation is that, when the COVID-19 pandemic struck, the move to remote working was sudden and changes to the way we were running our businesses were occurring daily.
For most leaders, keeping their businesses operational, looking after their clients and managing their cashflow were the priorities. Cyber security, perhaps understandably, took a back seat.
5 reasons why making homeworkers' computer networks cyber secure is essential
There has been a huge increase nationwide of people working on confidential, sensitive and often valuable business data on insecure home computer networks. Unless you have taken action to reduce the exposure, your business is vulnerable to cyberattack.
Here are 5 issues you may have that will put your business at risk:
Cyber criminals are aware of the opportunities presented by remote working and are exploiting it 24/7.
Internet routers in home computer networks are usually not set up securely when supplied by your internet provider.
There could be undetected malware lurking in the home IT networks of your staff and contacts.
Your homeworkers may be using new collaboration apps (like Microsoft Teams), which don't have appropriate security controls set by default.
There has been an increase in dangerous and very clever phishing emails since the beginning of the COVID-19 pandemic.
Act now!
Find out more about cyber security risks and how to reduce them. Start by joining our webinar on 1 July at 12.30 – 1 pm.