During lockdown, pupils are being asked to work at home and access online learning – but sometimes this can be difficult for all concerned! Here are our ideas on making it easier …
Many children are being asked to log in to video calls to connect with their schools for daily lessons – but for some schools and parents, it can be extremely difficult to either provide or access live learning.
If you're struggling to know where to start, or how to improve your child's online learning experience, we hope you might find something here to get you up and running:
Let them own their workspace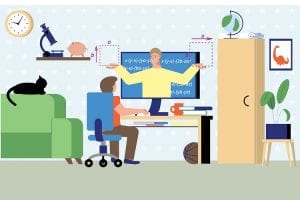 Children need somewhere quiet and with good lighting to do their best work.
De-clutter a table or desk – you know what they say about 'tidy space is a tidy mind'!
Try and find a chair that allows your child to have back support.
Depending on their age, they may have a few favourite photos, ornaments etc. they might like to have handy for their workspace. And they may like to designate their own mug to use when they're working, or just have their school water bottle handy.
Replace phones with headphones
If you can, get them to put their phone away while they're online 'at school'. Most schools don't allow them in lessons for obvious reasons and if you start as you mean to go on with this rule, it will be easier than trying to prize it away later!
Having a pair of headphones is invaluable for them to concentrate on their online lessons as they remove distractions from noise and surroundings.
Make a school timetable
It depends on their age but many schools will have provided your child with some sort of timetable for their online 'school day'. They should share this with you so that you can support them with it.
If they haven't, or your child is too young, it will really help to agree on a daily timetable with them – especially if there are many people in your household, trying to access multiple devices simultaneously. Also, everyone knows what they'll be doing and when (including all-important break times!).
At lunchtime, some children will relish the idea of having 'non school' food but others will take comfort in having their usual packed lunch to enjoy – and a ready-made menu might be easier for parents too!
Video platforms
Thank goodness we all live in an age where we can talk to each other and share experiences via Zoom, Facetime, Teams etc. Many schools and pupils are lucky enough to benefit from face-to-face teaching on platforms like Zoom but be watchful as it can be very tiring.
Hopefully, breaks will have been built into the timetable as it takes much concentration, especially when there is muting/un-muting to be negotiated. Screens can create glare so, to avoid headaches, you can turn down the brightness in 'Settings' on your computer.
Generally speaking, online learning shouldn't take up the entire day. The guidance from the Department for Education states that depending on their age, mostly, students should have between 3 and 5 hours of work set per day.
Study groups
As well as being able to email a teacher, children learn better when they have the chance to share ideas with their peers. So, having a study group with friends will help when they're unsure about a question or topic – they will no doubt already have this set up! But, if not, maybe they could build time into their day for this via free apps like Discord or FaceTime (from the appropriate webstore). As a parent or carer though, you would need to effectively manage this.
Online resources
BBC Bitesize offers online lessons in a variety of subjects, including videos and quizzes for different year groups.
From Monday 11th January, the BBC is providing extra educational help. CBBC, BBC Two, BBC iPlayer and BBC Red Button will all be offering content for students including daily lessons, which will be made available online too.
Help for families who can't afford the equipment
We know there are families who don't have the equipment they need for children to work at home.
Many schools will already have someone responsible for trying to provide access to devices and WIFI for those who need it. If this applies to you, please contact the school and they may be able to help.
In the meantime, the BBC is running a campaign asking for people to donate laptops, tablets and mobiles to help – see details here. BBC – Give a laptop
We at Pro Drive are also refurbishing old computers to make them available to our local designated charities, for them to distribute.
Help for businesses
Until schools are open again to all students, we hope you find the online learning experience goes well for your children – and for you if you're trying to juggle many activities!
If you're trying to work, there are many blogs on this website which provide tips for remote working, as well as our videos on our Webinars on Demand page.
Finally, for inspiration, take a look at this video on the equipment some of our team here at Pro Drive use – headphones are particularly valuable to avoid distractions!
If you have something specific we can help with, please contact us below.