If your computer runs Microsoft Windows, your Start menu offers the options of Shut Down, Sleep and Restart.
If you want to know the difference and when to use each of them, here's our guide …
Shut Down and Fast Startup in Windows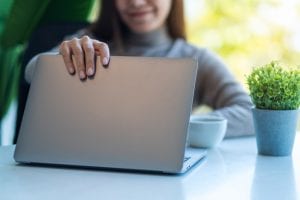 In older versions of Microsoft Windows, Restart and Shut Down both closed down programmes and powered off the computer, pretty much as you would expect.
Since Windows 8, Microsoft introduced a new feature called Fast Startup, which automatically enables the Fast Startup option when a user clicks Shut Down (unless you turn it off – to do this, see our video below!).
The upside of having Fast Startup is that it was designed to remove the wait for your machine to be ready to use again after you've shut it down.
BUT
Windows 10 enables the Fast Startup option when a user clicks Shut Down – but, as many people have found, this means that not all processes are disabled from the previous session. This is because, with Shut Down with Fast Startup, Windows 10 shuts down all programmes and files but doesn't close the Windows kernel, which is the part that allows the software and the hardware to work together. Instead, the Windows kernel is saved to disk, so it's much quicker to boot up when needed – but it may keep things open you don't want (like glitches from your previous session).
Restart
If you need to resolve any errors, or have installed updates or new software, restart is the option to choose from the Start menu. Although it may take a bit longer to get your computer running, a restart will shut down all of the previous processes, including the Windows kernel.
If your computer has frozen or has an error – try CTRL+ALT=DELETE keys
You may feel like a good kick should solve all woes if your computer has frozen or is showing an error message! The solution isn't to turn your computer off for a shut down but to trigger a Restart (for the reasons explained above). If you can't get to the Start menu, do this by holding down the CTRL+ALT+DELETE keys together. This should take you to the Lock Screen to get in and restart.
Mac users
The Mac operating system offers similar options to Windows, so use Restart if your computer is freezing or you've installed new software. Use Shut Down if you're not going to be using your computer for a time.
When to use Sleep mode
Using Sleep mode ensures that your software programmes and files are ready as soon as you wake the computer up. The downside is that your computer will still be using some electricity – so it's great to use if you're away for an hour or so – in a meeting or at lunch for example, but for longer periods use Shut Down.
How to disable Fast Startup
One of our Service Desk Engineers, Sian Day, explains how to disable Fast Startup in your computer's power settings so that when you shut down the computer, it will clear everything.
At Pro Drive we provide IT support in Surrey, London and the South East generally for SMEs. If you'd like our help, please contact us below.