Just a few weeks ago, Microsoft introduced a significant development to its product portfolio: Windows Virtual Desktop — Microsoft's most flexible service yet.
The new software is ideal for SME businesses with lots of data (both company and personal client data) or companies with multiple offices and remote workers across various locations.
Here's a quick breakdown…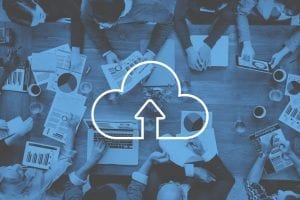 The software
Windows Virtual Desktop is a complete desktop and app virtualisation service that allows you to run Windows in the Cloud. Virtual Desktop Infrastructures (VDIs) like this separate the desktop environment and associated application software from the physical device that is used to access it.
Key features
The recent development includes a number of key features to help improve flexibility within your business and to create a better end-user experience:
Deliver the only multi-session Windows 10 virtual desktop experience. The software provides users with the only multi-session, virtualised Windows 10 desktop that's highly scalable, always up to date and available on any device.
Enable optimisations for Office 365 ProPlus. Windows Virtual Desktop offers users the best Office 365 ProPlus experience, providing the most productive virtualised experience for users through multi-session virtual desktop scenarios.
Migrate Windows Server remote desktops and apps to Azure. With the recent development, you can migrate your Remote Desktop Services (RDS) environment with a simplified management and deployment experience on Azure.
Deploy and scale legacy apps in minutes. Through the software, you can virtualise and deploy modern and legacy desktop apps to the Cloud in minutes using the Azure portal — all whilst getting built-in security and compliance features.
Additional benefits of the Windows Virtual Desktop include VDI/RDSH management as a service on Azure and a Windows 7 virtual desktop with free extended security updates.
The software is also integrated with the security and management of Microsoft 365, for added reassurance. Plus, since data is centralised in the Cloud and never saved on a device, security is improved too!
What's more, Windows Virtual Desktop offers a cost-effective alternative to Citrix Workspace and Citrix Virtual Apps on Desktops — yet seamlessly integrates with both, allowing for a smooth transition to the new software.
Requirements
Windows Virtual Desktop can be run on any device, including an Apple Mac. The software requires the below systems to operate.
To run Windows 10 multi-session, Windows 10 or Windows 7:
Microsoft 365 F1, E3, E5, A3, A5, Business
Windows 10 Enterprise E3, E5
Windows 10 Education A3, A5
Windows 10 VDA per user
To run Windows Server 2012 R2, 2016, 2019:
Remote Desktop Services (RDS)
Client Access License (CAL) with active Software Assurance (SA) 
To find out more about the new software or how it could be integrated into your company, contact Pro Drive IT today.