Back in the day, accidentally misplacing your Filofax would undoubtedly have resulted in a panicked outburst: "But my WHOLE LIFE is in there!"
But nowadays, most of our life — from emails and contacts to meetings, appointments, events and tasks — is at the mercy of our email providers, stored in various well-organised (ahem) folders.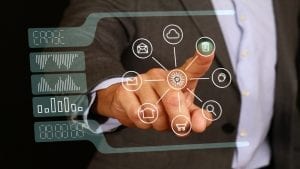 So, following on from last month's blog about recovering deleted files, we wanted to take a look at what to do if you find you've accidentally "filed" an important email away in the trash.
As with deleted files, the first place to look is the "Deleted Items" or "Trash" folders in Outlook or Mail. Simply search for the item you want, then right-click it and select Move > Other Folder.
But if that doesn't work, here are some other options to try…
Recover permanently deleted emails from Mac Mail
If you have enabled Time Machine backup, it will back up your Mac automatically and periodically to your backup disk.
You can optionally make hourly backups for the past 24 hours, daily backups for the past month or weekly backups for all previous months.
With the help of Time Machine, you can use it to restore deleted emails (even permanently deleted ones!) on Mail easily.
Click the Finder icon > click Go at the top of the screen.
Select the Applications tab from the pull-down list and double-click Time Machine.
Find the target Time Machine backup which with the date before you deleted your email.
Find the target Time Machine file and click Restore to recover the deleted emails to your Mac.
However, Time Machine will not be much assistance if you don't have an external hard drive which you can use to create a backup of all of your files.
Most of us don't have a large enough storage device for the entire Mac backup each time. Or we fail to maintain regular backups altogether.
So, if you haven't enabled Time Machine backup, your best bet is to use a specialist data recovery tool or software. (Find out which one we'd recommend later on in the blog!)
Recover permanently deleted emails from Outlook
With Outlook for Windows, you can recover a deleted folder (with all of its messages) if it's still in your "Deleted Items" folder. This is done in much the same way you would a single email, as we discussed at the beginning of this blog.
Unfortunately, you can't recover a folder that's been permanently deleted. But all is not lost! You can use the steps below to recover individual items from the folder you deleted.
If you can't find an item in the "Deleted Items" folder — either because you've deleted an item from the folder, emptied the folder or permanently deleted an item by selecting it and pressing Shift+Delete — the next place to look is the hidden "Recoverable Items" folder.
In Outlook, go to your email folder list, and then click Deleted Items.
Make sure Homeis selected in the menu bar then click Recover Deleted Items From Server.
Select the item you want to recover, click Restore Selected Items > click OK.
It's worth noting that if you can only see the "Trash" folder or can't find the "Recover Deleted Items From Server" option, your email account doesn't support recovering an item that's no longer in your "Deleted Items" folder.
There's always software
If all else fails, you've always got software to fall back on. Often, trusted professional tools are the most straightforward way to recover files — especially if you're not too familiar with the tech behind either Mac or Windows.
EaseUS Data Recovery is reliable and simple to use. Plus, it's compatible with both Windows and Mac, so you can use it to attempt to retrieve permanently deleted emails in Mail and Outlook — without a backup. 
Get in touch with Pro Drive IT today to learn about our simple-to-use Desktop Continuity service — and find out how we can help keep your emails and other data safe from deletion!