Microsoft has now launched the much awaited "Windows 365". It's exclusively for businesses and will enable you to access cloud-based PCs wherever you are.
Windows 365 will start to be available from 2 August and comes at the right time, with more people working remotely as well as in the office. Users will simply navigate to the Cloud PC website to sign in.
What is Windows 365 Cloud PC?
Until now, Microsoft has offered Windows Virtual Desktop but this builds on that. Windows 365 Cloud PC fits perfectly with hybrid ways of working, providing a secure and compliant experience from anywhere.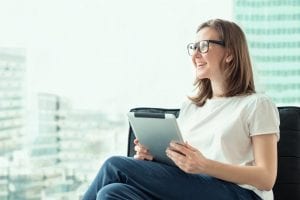 The new software lets you stream your personalised Windows experience, including your Desktop, your Apps, Settings, data/content and storage to all your devices. So, for example, you could log out of your laptop in one place and resume elsewhere on your iPad and still have the same data you were working on and the same experience.
It's easy to set up, scale and use and is straightforward for IT teams to manage. It will be compatible with all Windows 10 and Windows 11 devices and the session can be streamed to hardware running MacOS, iPadOS, Linux and Android. All modern web browsers and Microsoft's Remote Desktop app are supported.
What about the security?
Crucially, Windows 365 Cloud PC enables you to connect directly to your local office network securely. So you can access your shared files and folders for example. You can use Multi Factor Authentication on it and create different access rights. Data is encrypted at rest and in transit for your peace of mind.
The system is also fast, whether you're streaming, downloading or uploading content from your Cloud PC.
We look forward to being able to provide Windows 365 to our clients! Do get in touch about it. Further updates are available on the Microsoft site.