This cybersecurity update focuses on the 'PrintNightmare' vulnerability on the Windows operating system – another security risk which we have acted upon recently and which all users should be aware of.
Microsoft has issued a fix for the critical bug named 'PrintNightmare'. The bug was accidentally disclosed by researchers but the fix, a patch, is now available for systems as far back as Windows 7.
We have applied this patch successfully and without any incidents to our clients' systems.
Why the cybersecurity update?
Many people use the Windows operating system and, without the patch, 'PrintNightmare' could trick a computer into copying a malicious DLL file into its print spooler system, which is the software that manages printing.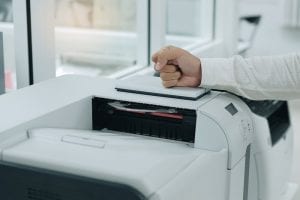 This vulnerability would give an attacker full administrator level access into the server or computer, posing a significant security risk. It could help them install programs, view, change, or delete data – and create new accounts with full user rights remotely on all versions of Windows.
Further details are available from the Microsoft Security Response Center (MSRC).
We at Pro Drive IT are here to help businesses keep their tech running efficiently and safely. Our services include dealing with patches etc. for this type of cybersecurity update and other essential support matters.
If we can help you too, please contact us on the form below for further information.