There is so much to do for an office move and having an IT checklist to tick off will make the transition considerably easier, smoother – and less costly! Here are our tips …
As lockdown eases and we resume more normal workplace practices, many are moving offices.
One reason for this is that the COVID-19 pandemic has shown businesses that people can work remotely successfully and they don't have to be in the office all the time.
Many people are 'hot desking', using a space on a rota basis on the days they're in.
Others aren't working in the office at all but are improving their home set-up to ensure they are professional, productive – and perhaps most importantly cyber secure.
The benefits of remote working include a happier work/life balance, plus it's more environmentally friendly and saves time and costs on travel.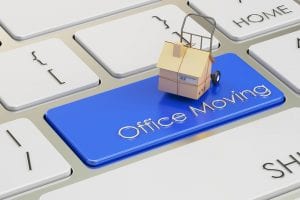 So business owners are downsizing office space and reducing their spend on overheads.
Whatever your reason for moving offices (you may have just come to the end of a lease, need more space or fancy a new location!) there are certain things you need to plan regarding your tech. It is advisable to start the planning several months in advance if possible. Appoint specific people to be responsible for the office move – and also the IT aspects.
Consider the new layout carefully, because there is nothing worse than getting to a new office and for people to not be able to use it because things have been forgotten. You, your staff and your clients need minimal disruption and downtime.
Look at your new office in terms of its facilities and IT infrastructure – having a checklist will ensure you have considered existing capabilities and any changes that will need to be made to accommodate your business's needs. Create a schedule for your office move with deadlines on when new technology and systems must be deployed.
Office move checklist for IT
1. Prepare the general layout, including:
Number of desks in the office.
Number of meeting rooms.
Number of printers / scanners etc. you will have.
2. Do a floor plan.
3. You'll need to involve your IT support team well in advance of the move so everyone is ready. Provide them with the floor plan and details like:
Are there BT distribution points and / or fibre in the office?
What are the requirements in terms of permissions and risk assessments for installing new fibre connections?
Who should they contact in Building maintenance (e.g. electrician, cabling).
Access authorisation (in general and to comms / restricted areas).
IT equipment installation approval (if shared comms area).
4. Onsite survey
When installing tech there are many other areas that require surveying. For example:
Is 4G available in the office? Check in particular comms area for coverage and record network(s) checked.
Is there a specific comms room? If yes:

Is it air conditioned?
Is it in a shared or private area?

Is there existing structured network cabling?
Is there mains power located next to the network floor ports?
5. In order to be sure that your new offices will accommodate your daily business requirements, consider everything each department does and needs.
Meeting rooms – do they exist or is a suitable location known? If so:

Check for availability of power / network ports.
Review for best locations for AV equipment (TV, videoconference camera, mics, computer).
Check cable access from computer to conference table.
Your IT support team will be able to make further suggestions for your office move needs. Or contact us on the form below if you'd like our assistance!