Passwords are an everyday fact of being online but they're a pain aren't they? Did you know Pro Drive offers a LastPass password manager service to help businesses keep their data secure?
Everyone is online these days and businesses use numerous different apps in their daily operations, most of which need passwords. There is a cybersecurity risk here because passwords are easily forgotten so people often use memorable combinations. You know the sort of thing, using your pet's name, a string of numbers like 12345 or even the word 'Password' as your password to sign in! And also, using the same password for more than one account.
These types of passwords are every cyber criminal's gift – they have the technology to easily discover them and hack into your accounts with very little effort.
What is LastPass password manager?
LastPass is a password manager that stores and encrypt your passwords for online accounts as well as your pin codes, bank account details and documents. So, instead of having to memorise all of these details or worse, write them down, you can save all this information in LastPass.
LassPass is easy to use. To manage all your passwords in one place, you have a password vault. In a business, or where there are several people, an admin can securely share credentials to ensure that people only have access to the accounts they should. Every user has their own personalised vault with a list of their accounts where they pick which account they want to log into.
So that people don't have to think of a new password every time they add an account, LastPass can automatically generate a random, new, secure password for them, which follows Best Practice. It saves it ready for use each time.
LastPass also allows you to change passwords for more secure options, including after it has flagged up any passwords you're using that are duplicated for another account.
Our LastPass Business Password managed service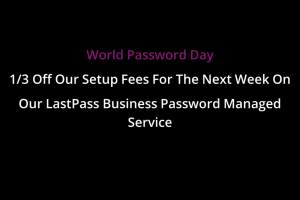 LastPass Business is flexible, depending on your requirements so talk to us about what you need. Our service includes setting LastPass up for your users, and we can also do daily tasks from the Admin console like updating security policies, deploying authentication methods for onboarding and offboarding etc.
The LastPass license includes:
Training courses to help people using LastPass.
Free use of LastPass for your family.
A console to say how secure the passwords for all the staff in your business are.
Secure sharing of passwords.
Monitor if any of your passwords have been breached and are on the dark web.
Pro Drive deals with all the setup, management and security of the service.
All this improves your cyber security and decreases the risk of a successful data breach, without reducing employee productivity.
If you'd like to know more about our LastPass Business Password Managed Service, please contact us – you can use the form below.