We provide business IT support but we care about mental health support too. We're sponsoring some of our team, who are taking part in fundraising events organised by Oakleaf, a mental health charity based in Woking …
We're giving a shout out to Oakleaf because they're local to us and have been helping the community to manage its mental ill-health since 1995. They find that every year, 1 in 4 people will suffer from a mental illness. In 2018/19, stress, depression or anxiety were responsible for 44% of all cases of work-related ill health and 54% of working days lost due to health issues in the UK.
We do business IT support – Oakleaf provides mental health support for adults
The charity helps adults to manage their mental ill-health and supports them in securing the skills, confidence and training needed to return to the workplace. They deliver this through work-related training, wellbeing activities/courses and counselling services. And they need our help.
Below are a couple of great fundraising events they've organised (there are more on their website) and details of how you can get involved.
'Side with 17' event – running – NEXT WEEK!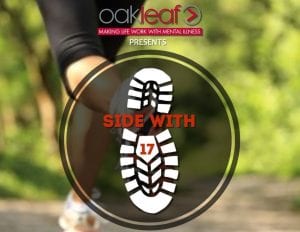 Oakleaf aren't letting the pandemic beat them. They're organising this running challenge called 'Side With 17' next week.
Around 17% of people will experience a common mental health problem in any given week, so the charity is asking people to use 20 – 26th July to run 17 miles, to raise much-needed funds and awareness.
We're sponsoring our team and you can also join in by taking part in the event or donating. More details here.
'Tour de Oakleaf' – cycling – 16th August
Missing out on the Prudential RideLondon this year? The charity is holding a virtual cycling event 'Tour de Oakleaf' on Sunday 16th August. The challenge is to cycle 50 or 100 miles anywhere a bike can go (including your home gym!). You can choose your route – just make sure you've cycled your chosen distance by the end of the day.
Oakleaf will also provide you with the options of participating in a 'joint start' on Zoom – and you can join a Strava club in order to keep track of what fellow members of 'Team Oakleaf' are up to.
And, in the meantime, if you would like to chat to us about our business IT support services, please contact us below!