Thanks to all of our lovely clients who have given us awesome feedback (in over 1400 responses) via Net Promotor Score for our IT support services!
As our mission here at Pro Drive IT is to provide exceptional customer service, this truly means a lot to us. Our clients' feedback helps us to make changes where we need to – and gives us the green light to keep doing what we're told we do well!
Customer service gurus agree that the one action that people appreciate the most – especially in challenging circumstances – is your business's ability to communicate well. So, we're particularly chuffed that the two main reasons for our high NPS received have been:
Our fast response to IT and cybersecurity support enquiries.
The fact that we're good communicators!
Good communication makes IT support services better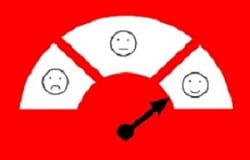 Everyone has different ways to explain issues, be they smaller problems with computer apps to large-scale data centre requirements and disaster recovery challenges – so being able to communicate well is key. It gets to the root of the problem quicker.
Shep Hyken, C-Suite advisor on all things customer service, said this month: "The greatest technology in the world hasn't replaced the ultimate relationship-building tool between a customer and a business – the human touch." And in our line of work, we totally understand the need for us to be able to listen and provide the right level of service to solve our clients' needs.
We know that while we can automate processes, we can't do that with relationships. Providing a friendly, helpful voice at the end of the line is crucial. We understand, too, that we can improve and will never take our clients for granted.
So, if you have a business IT/cybersecurity challenge – whether you're working in the office or remotely – we would like to hear from you. You can contact us below.