90+% of security incidents involve human error – with staff working remotely it has become an even greater problem. 
In this video, Bruce Penson of Pro Drive IT and Catherine West of Mimecast explain why people – whoever they are and wherever they're working – are your biggest cyber security concern and what to do about it.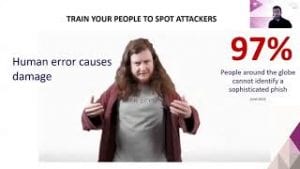 Effective cyber security awareness training doesn't have to cost a fortune!
There are many reasons why businesses don't invest in cyber security awareness training. The most common are: they think it will be too expensive; that it will take up too much time which could be spent on other tasks; that it is too hard to manage, especially when people are working remotely – or people won't take it seriously – or will feel they are being picked on.
Well, you will be surprised how wrong these assumptions are. Watch the video to find out why!