By now, we're all well aware of the dangers of data breaches, right? Yet, time and time again, we see businesses fail to put appropriate measures in place to protect their data.
Why is this a problem?
I think the main problem is people often think it won't ever happen to them. But this is an incredibly misinformed (and dangerous!) attitude to take. The reality is data breaches happen to companies of all shapes and sizes — they just don't make the headlines. Meaning your accountancy business is just as, if not more, likely to be targeted as larger organisations.
Think about it: as an accountancy firm, you hold masses and masses of personal data. And if you are a smaller business without the resources of the big companies, the chances are you won't have nearly as robust security measures in place to protect it. Cyber criminals know this.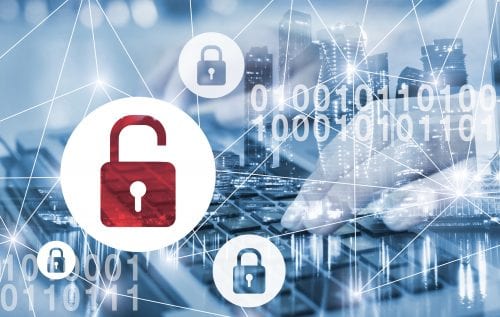 In the underground world of the dark web, it's not just money criminals are after. Data is extremely valuable too. So, if hackers can find a more straightforward way to access it, why wouldn't they use it? Unfortunately, businesses like yours are often seen as an easy and highly attractive target.
It's a big issue and one that could cost your firm dearly — both financially and in terms of your reputation. Plus, since the introduction of more stringent laws under GDPR, government advertising and several highly publicised cases, we are seeing the public become more aware of protecting their data. So, your clients will want to know theirs is safe with you.
How a data breach WILL happen to you…

There are many ways cyber criminals can get access to your data, but the number one route is through you or your employees. This applies whether they're working in the office or remotely.
As an accountant, you'll often make payments on behalf of your clients. This makes you a prime target for criminals who will hack your email systems or use social engineering to trick you into paying money into their bank accounts.
Staff also handle large volumes of data, which can easily be sent to the wrong people or accidentally deleted due to human error. And if they're using insecure methods such as email or USB sticks to send it: beware!
Ransomware attacks are also something to be wary of. Most accountants tend to charge by the hour, meaning you are far more likely to cough up the ransom amount to get your system back up and running quickly. Again, cyber criminals know this — and you can bet they'll use it against you given the chance.
Why this will damage your firm
Accountants are viewed as trusted business advisors. As such, a good reputation is essential to retain your existing clients and gain new ones. But we all know how little it takes to shatter a good reputation.
If word gets out that your business has suffered a breach, it can spread very quickly via social media — destroying in minutes the reputation you've taken years to build. And if the Information Commissioner's Office gets involved, they may publish details of the breach on their website for all to see. Leaving you to pick up the broken pieces of your reputation from the floor…
We know this all sounds rather dramatic, but a staggering 60% of SMEs go out of business within just six months of a cyber-attack! And there's a very real chance it could happen to your accountancy firm if you don't take the right precautions. So, it's time to get your head out of the sand…
Don't let a data breach put your firm out of business. Look out for our webinars and events about it on this website.
Contact us for further details and to chat to our expert team for advice. We offer dedicated IT Support and Cyber Security for Accountants.