Is your company Cyber Essentials certified? If not, you may be missing out…
Cyber Essentials is a UK Government standard based around configuring your IT systems in line with best practices and helping you to guard against the most common cyber threats.
In fact, it is estimated that when implemented correctly, it should block about 80% of cyber-attacks. That's pretty good going considering UK businesses are targeted by around about 65,000 cyber-attacks every day!
What's more, Cyber Essentials demonstrates — to clients, suppliers, customers and the necessary authorities — that your organisation has made a concerted effort and dedicated commitment to tackling cyber security.
But how do you know if your business has a Cyber Essentials certificate? Well, you can find out very easily by looking it up on the dedicated government website. And if you can't see your organisation name listed, you'll want to get straight on the case.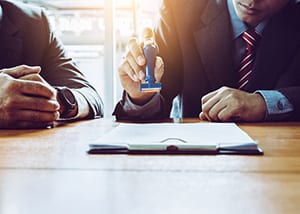 Here's what you could be missing out on without a Cyber Essentials accreditation:
New business
Amongst the public at large, there is growing awareness around cyber security — with both consumers and enterprises now factoring their data security into buying decisions. These decisions are often made after extensive online research on various businesses, so you want to make sure yours stands out from the rest. Chances are they will take more comfort from a business marketing itself as Cyber Essentials compliant.
Client retention
Just as your prospects will want to work with businesses that look after their data properly, your existing clients want to be confident their data is safe in your hands too. So, you need to be certified to guarantee they stick around. And if they — as many businesses now do — decide to get cyber security accreditations of their own, it may be they can no longer work with you until you are also certified.
Governance
In specific sectors, such as central government departments, Cyber Essentials is now mandatory. Governing bodies in some professions have also made Cyber Essentials a requirement – for example, firms of solicitors working to the Law Society's Lexcel Standard have to be accredited.
Business continuity
Put simply, if your business is not protected against cyber threats, you could find yourself in deep water. At worst, there is a very real chance you could be put out of business or at the very least, suffer significant costs and reputational damage. Why risk it all?
But the number one reason to have Cyber Essentials?
The controls set out by Cyber Essentials are common sense and good business practice. So, by not following them, you are creating unnecessary risks to your business.
Plus, a certificate is only £400! Or if you would prefer to work with a company that can help you through the more challenging parts of the process, your outlay will be little more than £1,000. Surely that's worth spending to protect your clients, win new business and, ultimately, look after your company and staff?
Contact us now on 0330 124 3599 to find out how to get Cyber Essentials accredited.