Want to get more done at work without spending long hours slogging away in the office?
We know how easy it is to get bogged down with all the tasks we need to get done. And although we've all heard of working smarter — not harder — staying on top of your to-do list and knowing what to prioritise can be a challenge in itself.
For those looking to be more productive, I'd highly recommend David Allen's book: Getting Things Done. He suggests looking at your to-do lists from a daily or weekly perspective, rather than focusing too far ahead. Sometimes, you'll need to look a little further forward for big-picture projects. But we've found this here-and-now approach really helps when it comes to ticking tasks off the list.
Luckily, in today's digital age, there are also many online tools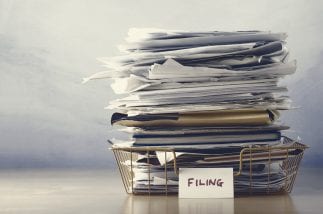 we can use to keep up with our workloads. Office 365, for example, is full of features designed specifically to streamline daily tasks and increase productivity.
So, if organisation is your downfall, check out these five handy Office 365 tools to help get you back on track…
To-Do
To-Do allows you to create personalised colour-coded lists and prioritise daily tasks easily. The Suggestions feature then looks at all the jobs across your lists — recommending the most important ones for you daily, so you can start each day with a clean slate.
To help manage deadlines and ensure you never miss a beat, you can add reminders, due dates and notes. When collaborating on projects, you can also share your lists with colleagues to help things get done faster.
Planner
Planner makes it simple for your team to create plans, organise tasks into buckets, assign them to the relevant person, share files and update on progress. Each team member will be notified by email when a task is assigned to them, and they can then view a complete list of everything they need to do in 'My Tasks'.
The tool works on all devices, and a quick glance at 'Charts' will clearly show where things stand — so everyone knows exactly what's going on and who needs to do what to ensure the goal is met.
Outlook
If you know how to use it right, Outlook can be used for far more than just sending or receiving emails. In the app, you can create task lists and track them until completion, setting due dates and reminders to ensure you get them done on time. Outlook always links up with the To-Do and Planner tools as well, so you can keep track of everything no matter where you're looking.
If excessive emails are slowing you down, Outlook's Clutter feature can also help you filter out the lower priority ones. The email server keeps track of the emails you do and don't read, learning from your actions to determine which ones to move to the Clutter folder.
Teams
Teams allows you to chat to and collaborate with colleagues more efficiently and effectively, without overloading each other's inboxes. The tool creates a central hub for instant messaging, group discussions, company announcements and file sharing. Available on desktop, web and mobile, Teams is also accessible from anywhere — ideal if you're working remotely.
OneNote
If you're always losing track of scribbled down meeting notes, OneNote can help to simplify the process. Available on any device, the tool allows you to take both handwritten and typed notes, insert screen clips and record audio notes.
You can then organise these notes into sections and pages — precisely like you would with a physical notebook! For extra security, you can even password protect your notes.
Back it up!
Thanks to these tools, there's no need to be jotting everything down with pen and paper — only for you to lose it all a week later!
But as we all know, technology also has its glitches. So, to ensure you don't lose all your important lists and documents, it's vital to back up your Office 365 tools frequently.
Check out our fantastic Office 365 backup offer today.