A good business IT support service provider will ensure that you can work productively and securely whether you're in the office or working remotely.
Now that more offices have re-opened, people everywhere are still procrastinating over where they will be working – at home or in the office, or both. And business leaders are hesitating to confirm this because they have reservations about remote working. Will it be less secure? Will there be productivity and communication issues? Will staff be as engaged? Will their company be seen as somehow 'less professional'?
These are extremely valid concerns and you may have shared them with your in-house IT department and still not felt reassured one way or the other.
But to let these worries prevent you from giving remote working fair consideration is to potentially restrict your business and give competitors an advantage.
For cloud services have transformed many workplace environments already. Remote working has been proven to bring many benefits, not least the fact that there is no commute, reduced office overheads, you can attract and recruit staff from a wider geographic area – and you become more attractive to potential candidates.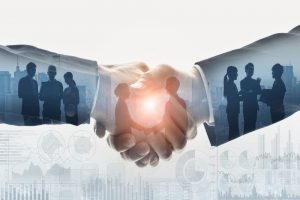 So how can you include remote working on a more permanent basis, either as a full-time or part-time arrangement, depending on your industry and the people concerned? The answer is to get advice from an expert who isn't involved in the daily operations of your business.
Ensure you have the right business IT support
If there is one thing all business leaders lack, it is time. But you can save time – and a great deal of worry and cost – if you prioritise a discussion with a business IT support service provider.
Talk through your plans and concerns as soon as possible with an outside expert and they will help you consider potential hurdles and find solutions. They may have ideas that you haven't thought of in terms of the best software etc. for your particular needs. They will have the latest information on new products and innovations to make it easier for you and your staff to work, wherever you are.
Collaboration, communication and cybersecurity solutions
There are many new solutions out there. For example, Microsoft has just launched Windows 365 Cloud PC. It's exclusively for businesses, fits perfectly with hybrid ways of working, and provides a secure and compliant experience. It builds on the existing Windows Virtual Desktop.
You may be familiar with cloud collaboration software like SharePoint, which is good for sharing files securely, or messaging and video conferencing products like Teams. An expert can tell you about the latest features and how to get the best out of them when remote working.
And then there is the cybersecurity consideration, to ensure that you don't waste time and money on inadequate cover that could expose your business to cyber-attacks.
A decent business IT support service provider will also explain your options for training your staff in both how to use the software and how to be aware of security scams. This too, will make the difference between your business having a great remote set-up – or having a nightmare. 99% of the time, cyber attackers infiltrate businesses via an employee's mistake or poor equipment set-up.
So if you do one more thing today, talk to an expert about your business tech requirements. It will clarify your situation and save you time and stress.
You can contact us on the form below for a chat – we'd love to help.