We take you through Viva Insights, part of Microsoft Viva, the employee experience platform which was launched in 2021, with hybrid working particularly in focus. It's easily accessible in Teams.
To get a feel for the intention behind it, Satya Nadella, CEO at Microsoft said at the Viva launch: "Every organisation will require a unified employee experience from onboarding and collaboration to continuous learning and growth. Viva brings together everything an employee needs to be successful, from day one, in a single, integrated experience directly in Teams."
Powered by Microsoft 365, the Microsoft Viva suite integrates with Teams and other Windows software tools to unify the employee experience – like an intranet – across four key areas — Engagement, Wellbeing, Learning and Knowledge.
What is Viva Insights?
In the past couple of years employee wellbeing has been high on the agenda, with the COVID-19 pandemic increasing levels of stress and burnout. So Microsoft introduced Viva Insights as a free wellbeing and productivity app in Teams. It's a data-driven tool with the aim of giving individuals, managers and leaders personalised and actionable insights.
What does it offer me?
The Home tab is a personalised dashboard of activities and actions drawing together features from the whole of Insights like reminders to contact people, important emails to read, focus time you've booked, ideas for de-stressing etc.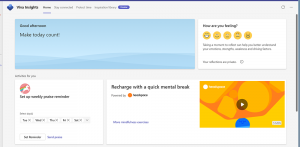 The Stay Connected tab is where you can send praise to colleagues, contact people on your list etc. It helps you maintain positive connections with your colleagues and collaborative teams.
Viva Insights gives employees the opportunity to plan focus time, away from distractions, on priorities from within Teams. Clicking the 'Protect Time' tab enables you to book time out on specific tasks.
Also under the 'Protect Time' tab there's a 'Virtual Commute' section where you can check the next day's timetable and add tasks in Microsoft 'To Do' before you finish for the day. You can grade how you're feeling too in this section by ticking a face – ranging from frazzled to fantastic! (You can do this when you sign in first thing as well, so you can compare the two – some people may find this useful). And finally, you're offered a meditation to do before you sign out.
Our opinion
We think Insights is quite a neat tool which Teams' users may appreciate as it brings many activities together into one place and it nudges them to pause in their day and think about how they are feeling. It encourages people to 'zone out' for five minutes when things are getting too much by simply booking in a regular break and by using meditation tools like Headspace. There's also an 'Inspiration Library' with a huge range of ideas and tips on things like reducing stress, handling your workload, communicating with colleagues etc. And it's a great prompt to send colleagues praise and build relationships.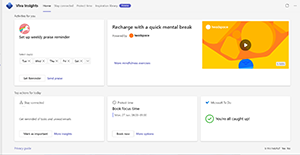 The Insights dash for employees is personal to them and can only be seen by them.
Managers and leaders: can see trends at team and organisation level, as well as recommendations to better balance productivity and wellbeing. The insights are collected anonymously to maintain personal privacy.
Manager insights – provide visibility into work patterns that might lead to burnout and stress. These include regular after-hours work, meeting overload, or too little focus time. Managers and team leads can use these insights to help their teams strike a balance between productivity and wellbeing.
Leader insights – these help business leaders see how their work culture is affecting their organisational resiliency and boosting employee engagement. Leaders can use the recommendations on the 'Outcomes' page to see opportunities where a change could improve their business results.
Advanced insights – similar to Leader insights, Advanced insights can also help business leaders address critical questions about organisational resiliency and work culture, with insight into how work impacts their people and their business.
Data privacy – Viva Insights complies with applicable laws and regulations.
What does Viva Insights integrate with?
A new dashboard is currently in 'public preview', which allows organisations to combine employee feedback from LinkedIn's Glint with collaboration data from Viva Insights if they want to. You will also be able to use data and signals from Microsoft apps, and incorporate data from third-party services like Zoom, Slack, Workday and SAP SuccessFactors.
Contact us on the form below to find out more about Microsoft Viva and how it might be used in your business.