Why are we asking about your Technology Strategy in the same sentence as mentioning all the exciting (or nerve-racking) sports events taking place this summer?
As we write, the England football team are still in the Euros – how far will they go? Then there's Wimbledon tennis, the Tour de France cycling, Rugby League and Union matches, cricket, Formula 1 Grand Prix, Golf's 149th Open … the Olympics and Paralympics … the list is long and amazing. What are you enjoying?
Back to the point. One thing that unites all these athletes taking part is that they've had even more to do to prepare, due to the COVID-19 pandemic. But being top of their class, they will have followed a strategy, including rigorous training schedules. And, vitally, they will have the best support network of coaches, physios, admin staff etc.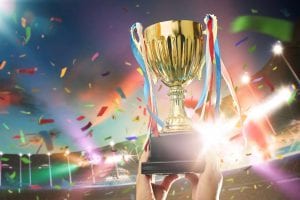 An elite athlete is powered by their talent but also their team. By selecting experts to advise them on the latest and best solutions to every challenge, they can concentrate on what they do best.
Technology Strategy and tactics
And it's the same with a successful business when it comes to its tech. As with an elite athlete, a business works best when its IT is looked after by a trusted team of experts, who have the right tactics – and tech tips!
Having the right tech expertise is a big challenge for businesses now. The work model has been transformed by the COVID-19 pandemic, with remote and flexible working becoming commonplace. And even if staff are back in the office, they will need to communicate and do business with people who work at home. So a clear strategy is needed, and if you don't have an IT department, or it's overstretched – or underskilled – you may need to seek additional help.
An agile approach
It's important to have access to IT experts who not only know about new technologies but understand whether they are right for your business. They should be able to align the tech to assist your long-term response to the pandemic. They need to work with you to devise a sensible technology strategy and ensure your IT delivers your objectives.
Being able to trust the advice of a third party is, of course, a big part of the answer, as is the willingness to allow access to your business systems and data. The tech people you engage with should be able to prove their credentials. Demonstrating a solid understanding and experience of cyber security, business continuity and disaster recovery is an absolute must.
What we're saying is that a decent IT services provider will offer a whole lot more than pure IT support; they can be a partner to your business and greatly reduce the risk of IT failure and cyber attacks. Other advantages of working with an outsourced Managed Services Provider for IT are:
• Scalability of service.
• Reduced costs on IT operations/infrastructure expense as your business changes and grows.
• Increased business productivity.
• Predictable and controllable monthly IT support costs.
In short, outsourcing IT services can be a great investment as it enables businesses to focus on what they're best at: revenue-generating activities.
If you'd like to have a chat about how we can help you improve both your clients' and your employees' experiences and optimise your business, contact us on the form below.
After that, you might have less stress and more time to watch your favourite sporting greats!