If you weren't already considering updating your phone system, we bet you are now!
Amid all the uncertainty of the current coronavirus situation, one thing is sure: businesses all around the country are starting to realise the limitations of their ageing, out-of-date systems.
As you're probably well aware of by now, the main issue with these phone systems is they make it incredibly difficult for people to get hold of your team when they're spread out and working from home in different locations.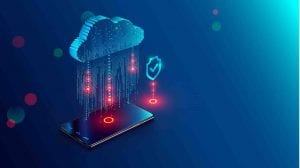 And if your team are wasting their time taking messages, passing them on, getting call backs on mobiles or their home phones, this is only costing you money — at a time when you are probably already being asked to do more with less.
Worse still, you might be missing important calls, which won't give a good impression of your firm. It may even cost you new business opportunities at a time when new clients are like gold dust.
And if your system goes down — good luck getting anyone out to fix it right now!
A cloud system, on the other hand…
Can be implemented and maintained remotely, so you don't need to worry about service disruption. Unlike a traditional hardware-based system, a cloud solution allows you to configure and administer the system from an easy-to-use web or smartphone interface, and users can connect directly to it via the internet. Meaning no more 'dialling in'!
Beyond that, a cloud phone system offers numerous other benefits including top-line business features such as virtual assistants, greater control over modes of communication, automatic service feature updates, enhanced reliability (even when the internet drops) and improved customer service.
But above all in these current circumstances, it offers four crucial benefits: mobility, flexibility, cost savings and business continuity.
A cloud-based system means your employees can easily log in from anywhere — allowing everyone in your business to operate optimally from multiple locations.
You can also quickly scale communications up — or down — as required. If you suddenly need to accommodate heightened call volume, you can add new extensions easily. Equally, if you find you need fewer extensions, just deactivate them.
Plus, unlike with a traditional system, you'll only pay for the extensions you need for as long as you need them. Which leads onto our next point — cloud solutions are much more cost-effective, allowing you to make vital cost savings when you need it most.
Finally, using a cloud phone system will allow your business to remain connected to your customers and clients no matter what happens. And in uncertain times like these, it's good to know you can at least be certain about one thing!
Industry-leading reliability
The most important step in transitioning to a cloud phone system is choosing the right service provider. RingCentral offers industry-leading reliability and a comprehensive set of features, including audio and HD video conferencing, team messaging and integrations with key business productivity applications such as Microsoft Office 365.
Making the switch between providers can seem daunting, which is why we make it as seamless and risk-free as possible for you at Pro Drive IT. We can also help secure incentives to move to the RingCentral cloud phone system.
We offer comprehensive cloud service support and in the past, have helped numerous clients migrate to the RingCentral system — including Data Logic Solutions, which was planning an office relocation and wanted to avoid the costs and logistical challenges associated with moving an on-premise phone system.
 "Our productivity has increased as we can now work from home, which we couldn't do before. We also now use headsets, and the integration with our helpdesk software makes dealing with inbound calls more efficient."
Steve Powell, CTO at Data Logic 
The current situation is likely to change the way we all work forever. Staff will expect greater flexibility and want to continue being able to work remotely. So, you need to get ahead of the game now to ensure you're in the best possible position when all this is over.
To find out more about the benefits of our cloud services and receive a no-cost review of your existing communications system, please get in touch today. We will also be running a webinar about cloud phone systems on the 6th of May.