We've shown you how to restore files on Windows and Mac. We've given you the tools you need to recover deleted emails in Outlook and Mail.
But why stop there? How about some tips on restoring deleted files in Office 365 Exchange Online and SharePoint?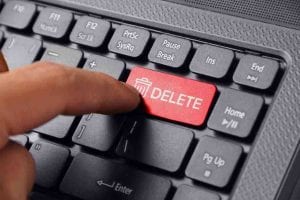 Retrieve files in Office 365 Exchange Online
If you've been a Microsoft user for some time, you should already be pretty familiar with the "Recycle Bin" — also known as the "Deleted Items" folder. By default, Microsoft Exchange purges this folder every 30 days.
During this time, it is simple to recover a deleted item in Office 365 — so long as you haven't emptied the bin.
If you are accessing Office 365 exchange directly from the web app, all you have to do is:
Click the Deleted Items
Find the file you need.
Right-click the document > select Move and then Inbox to return the file.
This isn't just for retrieving deleted messages and attachments either. You can also use the "Deleted Items" folder to recover events, contacts or even tasks. The steps are pretty much the same — you just have to choose contacts, calendar or tasks instead of moving data to your inbox.
Unfortunately, if it has been more than 30 days since you deleted the file, this is no longer an option (unless your administrator has set a longer time limit). However, Microsoft does offer a limited recovery option through the "Recoverable Items" folder.
To recover items from here:
Right-click Deleted Items and select Recover Deleted Items from the menu.
Search for the file you wish to recover.
Select file and choose Recover.
Unlike restoring files from the Recycle Bin, these files automatically return to their default location — i.e. messages go back to your inbox, events go back to the calendar and so on.
There's a slight catch though. Items will only stay in the Recoverable Items folder for 14 days.
But there is a solution!
Luckily, there is a better way to guarantee your Office 365 files remain retrievable: software such as CloudAlly. Whilst Microsoft's "Recycle Bin" is handy for recovering accidentally deleted items within a short time frame, CloudAlly is a permanent back up option.
Files stored within CloudAlly from a connected Office 365 account remain there indefinitely. End-users can't access their storage and manually alter or delete data, but administrators can remove user accounts from the backup if necessary. Administrators have the option of restoring messages, events, contacts and tasks back to the original owner, restoring to a new user or exporting the file in a compatible PST format.
Recover deleted files in SharePoint
When you delete a document from an app in SharePoint, it isn't gone forever. The document just moves to the "Recycle Bin" — much like it does with Office 365 Exchange.
To restore a document from the "Recycle Bin" to its original location, follow these steps:
Click the Settings gear icon > choose Site Contents.
Click the Recycle Bin button in the upper-right corner.
Selected the deleted document > click the Restore Selection This will restore the file to the app.
SharePoint stores documents in databases. A site collection administrator can connect to a backed-up copy of the database and select individual documents to restore in the second stage "Recycle Bin". This bin is located in the "Site Collection Administration" section of the "Site Settings" page of your SharePoint site.
If you're the site collection administrator, you can follow these steps to access the second stage "Recycle Bin":
Log in to the SharePoint site as the site collection administrator.
Click the Settings gear icon > choose Site Settings.
In the Site Collection Administration section, click the Recycle Bin
Click the Deleted From End-User Recycle Bin link in the left navigation panel.
Select the items you want to restore > click Restore Selection.
That's it!
To avoid any future data recovery mishaps, contact Pro Drive IT to learn about our user-friendly Desktop Continuity service.