Okay, hands up — how many of you still use fax machines, paper statements and paper documents? If so, why?!
For many businesses, particularly accountants and lawyers, going paperless sounds pretty daunting. Both law and finance are traditionally paper-heavy industries with filing cabinets filled to the brim with signed paperwork and other bits of important information.
But at a time when almost every employee has access to a computer or mobile device, it makes sense to take active steps to help reduce the amount of paper we use in the work environment.
As such, hundreds of businesses are shaking up traditional business processes and shifting to a new, paperless office strategy. Yes, even lawyers and accountants are starting to go paper-free!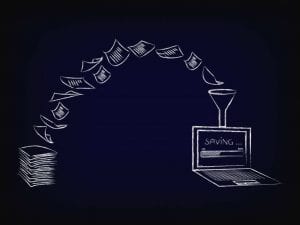 Save your money AND the environment
Going paperless can have many advantages for your business. Let's take a look at two of the key incentives for reducing paper waste: cost savings and saving the environment.
Paper might be cheap and easy to distribute. But once you start paying for printers, toner, cabling, connectivity, maintenance, servicing and user support, it soon starts to add up. And that's not including what you pay to file and store it all! Eliminating paper waste will save you money on printing, filing, postage and all other associated costs.
Aside from the cost savings, it's no secret that the paperless approach is better for the environment. Less printing means fewer trees are cut down for pulp, and less energy is used to make and transport paper. And that can only be a good thing given the current focus on reducing emissions to hit the net-zero by 2050 target.
This is a big reason why so many businesses have started to reduce their use of paper. After all, we've cut down on our use of plastic bags in shops — why not cut down on our use of paper in the office?
Make the switch to paperless
Thanks to technology, it's now possible to get rid of paper entirely, in almost all areas of business. So, what steps can you take to curb your business' paper use?
Adopting the right tools and document management systems will go a long way to supporting your paperless office.
1. Electronic sharing of documents
One of the simplest ways to eliminate the excessive use of paper is to use cloud-based applications such as Office 365. These let you share files with clients or internally — without a trip to the printer.
Digital documents are much more versatile than paper. They're simpler for multiple people to amend, more searchable and easier to store and send. Office 365 is great for collaboration, as it lets you work on a document or spreadsheet simultaneously with colleagues and then continuously saves, so you'll never lose the file you're working on. And you can share them very securely! For example, you can lock documents to prevent them being printed by just anyone.
2. Online notebooks
Don't you hate it when you start a new notepad and make a mistake on the first page? Not an issue with electronic notebooks like OneNote and Evernote.
These digital tools allow you to create, organise and share meeting notes, to-do lists and projects with anyone. You can even add annotations to your notes and easily search for them across all your devices.
While on the subject of to-do lists, applications such as Microsoft To-Do do a brilliant job of managing these for you.
3. Smartboards
Be honest – how many times have you scribbled away on a flip chart during a meeting, only to throw it away five minutes after it's finished? Old-school whiteboards are a great solution to this. Just take a picture on your smartphone if you need to save the notes for later — there are even apps, such as Microsoft's Office Lens, which have a specialist smartboard scanning mode. Or even better, invest in an interactive smartboard!
4. Dual-monitor setup
If you frequently find yourself printing out documents to cross-reference them with another one, it's time to consider a dual or multi-monitor setup. Having two (or three) screens will allow you to compare documents side by side — without wasting any paper!
5. Paperless statements
Electronic invoicing and paperless bank statements are the way forward to cut down on unnecessary paper usage. The more online billing and banking you do, the less you'll spend on envelopes, postage and employee time. So, get in touch with your bank, suppliers and clients to arrange to use online banking and electronic invoicing.
6. Expense apps and company cards
Expenses aren't quite the mountain of paperwork they used to be — at least not with apps like Receipt Bank or software-integrated credit cards like Pleo. Receipt Bank allows you to capture receipts and receive your client's paperwork via email or the app, while a range of other functions automates the entire process. Pleo's company card also helps to simplify bookkeeping through its integrated accounting tools.
7. Virtual business cards
Have you ever gone to hand over your business card at the end of a meeting, only to realise you left it in the office? With digital business cards, you can consolidate and share all of your contact details and accounts instantly in one single view.
Apps such as Haystack and Inigo allow you to create consistent, digital cards for your whole team and then share them with contacts. Just think how much money you'll save by not having to print hundreds of business cards for each employee!
8. Electronic forms
To discard fax from your business process, it's also worth replacing paper forms with fillable PDF ones. If you don't want to fork out for paid applications like Acrobat, free online tools such as PDFescape also let you create and fill out PDF forms and then submit them via email or a web browser.
9. Electronic signatures
Are you fed up with having to print, sign and scan documents before sending them back? Many people are still reluctant to use electronic documents or signatures, questioning their legal validity. But most countries now have laws that make electronically signed contracts just as valid as those signed with pen on paper! Free online tools such as Eversign allow you to create legally binding electronic signatures — ideal for finance and legal departments.
Soon, unnecessary paper waste and piles of office paperwork will be a thing of the past. The future is digital — but if you absolutely HAVE to print something, at least print it double-sided!
Looking to go paper-free? Get in touch with Pro Drive today to see how we can transform your business processes with clever IT solutions.