Buying computers has always been the traditional way of securing tech for your business. But sometimes traditions are made to be broken, right?
High upfront costs, crippling cash flows, lagging equipment and a disgruntled, unproductive workforce mean this way of purchasing PCs is now severely outdated. Especially when you consider how we buy so many other things…
These days, we live in a subscription economy. Mobile phones, cars, houses, extra TV channels, gym memberships, office spaces — you name it, everything is leased or paid off in monthly instalments.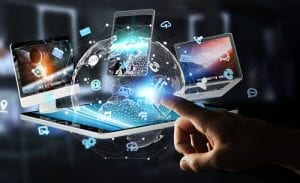 So, why are you still buying your business' PCs upfront?
Monthly leasing
PC as a Service (PCaaS) is a device lifecycle management model that allows you to pay a monthly subscription fee in return for leasing endpoint hardware and management services from a vendor.
In terms of devices, PCaaS can encompass everything from desktop PCs to mobile devices. Services can also vary between vendors, including anything from configuration and help desk support to asset management and data backup and recovery.
How much control you maintain will depend on the contract. This can range from a hybrid approach where your internal IT team manages some aspects of the device deployment to a totally managed arrangement where the vendor controls every aspect.
Benefits all round
The overall goal of PCaaS is to help you spread the cost of purchasing hardware and to make PC lifestyle management much more straightforward. But PC as a Service also offers several other benefits to your business and users.
Let's break down some of the key advantages:
Less hassle
PCaaS offloads PC lifestyle management, including device disposal, almost entirely to the vendor. So, you can spend less time tracking when computers are due for replacement and more time focusing on strategic ventures that help drive business transformation.
Enhanced flexibility
PC as a Service makes it easier for you to scale your business up or down. If you need to add more tech for a month or so, you can lease additional devices during those months. Equally, if you need to reduce the number of devices in use for any reason, you won't be left with a cupboard full of old computers you can't even give away!
Better cash flow
By not having to pay a large sum of money upfront, you can conserve your cash flow and remove the risk of getting caught up in an endless cycle of replacing outdated or obsolete devices.
Tax relief
Unlike cash purchases, for which only a small percentage of the cost can be offset against tax, lease payments are counted as rental payments in your accounts. This means they are completely allowable against pre-tax profits — making them an excellent solution for SMEs!
Up-to-date equipment
PCaaS allows you and your employees to get access to the latest tech without the burden of lump sum costs. New equipment is less likely to fail, much faster than ageing models and more portable, which means you and your employees can work on the go and benefit from boosted productivity. Plus, you'll be able to run the latest applications and software crucial for your business.
Full support
PCs under subscription are always covered by a next day, onsite repair service. Most vendors will also offer warranties, as well as on-call qualified tech and support teams.
Improved security
PCaaS boosts security by inventorying devices and tracking their locations and status. Some services will even include predictive analytics, which can help to tackle hardware failures and identify any security policy violations. What's more, the latest technology often uses powerful and secure biometrics for login access.
Getting started
If you want to drive growth and digital transformation, there is no time to lose. Now is the time to invest in the latest equipment and software. And thanks to PCaaS, investment no longer means hefty upfront costs!
To get started, first identify your business needs and how many devices you require. The more devices you have, the more you will be paying. So, it's vital to get a realistic idea of what you want before researching vendors.
Want to find out more about PC as a Service? Speak to Pro Drive IT today — we can even trade-in your old equipment and give you some cash back!