We're excited about being selected as a Finalist in the CompTIA Spotlight Awards 2021 'UK Solution Provider of the Year' category, for our business IT solutions and cybersecurity services.
CompTIA is a trade association of the IT industry and Pro Drive has been a member for many years and contributes in a variety of ways.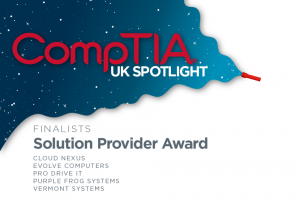 We're not ones normally for shouting about such things but sometimes it is uplifting for everyone involved to do so, so here goes.
CompTIA states in its description for these Spotlight awards that they 'recognize both individuals and organisations for their outstanding service, achievements, and impact in the tech industry.'
For the 'UK Solution Provider of the Year' category, the judges look for companies that demonstrate excellence and innovation towards their organisation and clients. This time, special consideration is being given to candidates in 2020 who demonstrated leadership during the lockdowns and worked tirelessly to support others – so we are very chuffed about being chosen!
We wish all our fellow finalists Good Luck!
Business IT support and cybersecurity pandemic style
If you don't know us, our business is to provide a wide range of solutions and solution provider licenses for our clients, including: Endpoint (PC, Mac and Smartphone) management; infrastructure (servers, networking, cloud) management; hosting services; backup and recovery services; cybersecurity – such as email security, awareness training, endpoint and server security and certifications – as well as strategic IT/virtual CIO services.
Our key focus is that we develop and innovate these solutions mainly for clients in regulated business sectors such as financial services, accountancy, law and energy. This means they require a high degree of compliance from their IT.
Like everyone during the pandemic, we had to switch rapidly away from our traditional face-to-face approach to meets, workshops etc. Being in IT, we had cloud services at our disposal and supported each other and our clients in setting up for remote working. We ensured that everyone had what they needed – from collaboration apps like Sharepoint and Teams – to videoconferencing, to security videos. It was, shall we say, hectic!
As many of our clients are regulated, we built greater online training provision into our offerings and invested more heavily in cybersecurity solutions to meet the needs of remote working.
We are proud of the way our team performed over the last 18 months of disruption – there were numerous occasions when they went 'above and beyond' to find solutions to unusual challenges caused by the pandemic. They continue to do so every day.
We thank them and our clients for sharing the journey with us.