We all know that business is a numbers game. Without knowing precise figures, you've got no chance of maintaining focus and complete visibility over what is going on in your company.
If you're a finance director or an accountant, you'll be used to crunching numbers every day for your firm. But how well do you really know these numbers?
If your figures aren't up to date and you don't have a good handle of how they align with your objectives and KPIs, you'll be running the business blindly.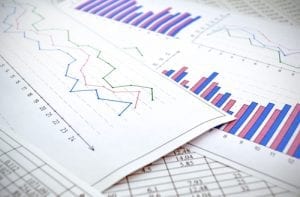 What are KPIs?
Too often, we see companies fail to log their numbers properly throughout the year — leaving them with an idling business as they sit and wonder where it all went wrong.
This is where key performance indicators (or KPIs) come in handy. KPIs measure the effectiveness of different areas of an organisation by comparing the goals of the business against quantifiable data over a specified period.
For core functional areas such as accounting, tracking and monitoring financial KPIs can help you spot long-term trends, as well as identify and fix short-term problems.
By setting KPIs, you will have a better understanding of what is going on in your business. For example, your financial numbers will tell you whether your costs are under control, whether your sales income is on track and where you're at in terms of profits — the ultimate indicator for how well your business is performing.
KPIs you should be tracking
Your financial KPIs could focus on several different areas such as the line of credit, cash activity, company payroll, accounts payable and accounts receivable. In accounts payable, you might look at the average invoice value, the time from invoice receipt until payment or the total discounts lost due to late payments. Time-bound KPIs can also be used in accounts receivable to forecast cash flow.
On that note, revenue KPIs are also crucial in the accounting and finance department. For example, Average Revenue Per Customer is a great indicator of your ability to offer, sell and deploy a range of services.
It's also important that you are tracking efficiency throughout your business. Are your staff being productive? Are you delivering your work to scope? Are you really making the expected margin for the work you are doing?
Other critical KPIs to measure include client satisfaction and engagement indicators such as your Net Promoter Score, which gauges your client's loyalty. Failing to ask for this feedback means you will be missing out on useful analysis and suggestions for improvement, as well as revenue opportunities.
Finally, we all know that happy, engaged staff are key to a successful business. Are you tracking your staff engagement and satisfaction in your management KPIs?
Knowing all these figures will help you stay focused on the important things that are going to help your business succeed.
Keeping track
 Although you might have multiple KPIs, they should all tie together into a single report. This is why a robust and flexible reporting system is essential for monitoring and exceeding KPIs.
Advanced data analytics tools such as Power Pivot, Dynamic 365 and Power BI are ideal for keeping track of KPIs and ensuring you make the most out of your business' numbers.
If you're already familiar with Excel, Power Pivot is a handy add-in which enables you to mash up large volumes of data, analyse it quickly and share insights. When working in the Power Pivot window, you can also create and edit KPIs easily for use in tables and reports.
For a complete business management solution, Microsoft Dynamic 365 gives you increased financial visibility by connecting data across accounting, sales, stock, purchasing and customer transactions. The software allows you to make smarter, more informed business decisions and charts financial performance in real-time through the built-in Power BI dashboards.
Power BI enables you to visualise and present KPIs through interactive reports customised for your business. So, you can dig deeper into your data, gain actionable insights quickly and accelerate growth.
Finally, for tracking staff engagement, we are massive fans of Officevibe. Although nothing substitutes good management and regular catch-ups, Officevibe does a brilliant job of turning the engagement of your staff into measurable numbers — and the best part is that it is free to use!
In today's data-driven economy, knowing your numbers is essential if you want to drive success. To find out how Pro Drive can help you keep track of your business' KPIs through software and our IT support services, contact hello@prodriveit.co.uk or 0330 124 399 today.