We're excited to be finalists in tonight's Surrey Business Awards in Guildford. We're shortlisted for 3 awards – Medium Business of the Year, Employer of the Year and Best Customer Service.
Being shortlisted for awards adds further excitement to the journey we're on at Pro Drive IT. It should be a fantastic evening!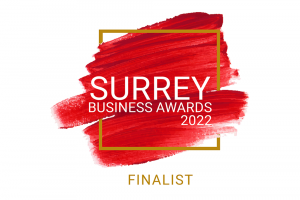 We're delighted to be chosen as finalists and whether we win or not we'll be in great company, up against some of the best of Surrey businesses.
We find it's always good to enter awards; the whole process of answering questions about different aspects of your business can really bring into sharp relief the important things, like what your values are, what you're trying to achieve and whether you are making progress with your goals.
We're chuffed to have been shortlisted for our customer service, in particular, because we're in a service industry. We've been getting a Net Promoter Score for client feedback hitting 90 recently, which is wonderful!
It will be lovely to meet some of our fellow finalists – good luck to all tonight!