Suddenly having to up sticks and get all staff set up to work from home has left many businesses shell shocked. Not just culturally (we're already missing the tea breaks together), but also in terms of keeping teams as productive as possible while working away from the office.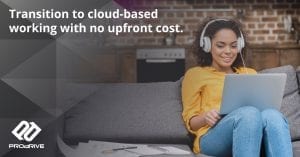 Lockdown has brought significant change to business operations across the UK. Although most organisations have remote working systems, many are not designed for ALL staff to be working remotely at the same time.
Where all your staff are currently 'dialling in' to IT at your offices, this can lead to slow performance, dropped connections and low levels of satisfaction. Not what you need in a business environment that is changing daily — or when you're already struggling to keep staff motivated and ensure you are taking care of their wellbeing!
You are probably asking more of your staff now than ever before. So, it's important to give them the tools they need to do their job properly…
Struggling with on-premise IT
If you haven't made the switch to cloud-based services yet, chances are you're now REALLY starting to realise the pain points of using on-premise IT systems.
Lagging IT systems are making yours and your staff's lives more difficult than they need to be — at a time when you're already concerned about their welfare. And poor productivity is costing your business money when it needs it most.
If your teams can't work properly, your clients will soon pick up on it — which could significantly impact your reputation with them. If employees can't access systems and information, the service you provide to your clients will drop. Again, affecting your reputation and client relations.
Letting this go on for too long could result in your clients leaving you for a company that can work effectively in the current environment. Frustrated staff might also reconsider who they want to work for when this is all over if your remote working capabilities aren't up to scratch.
What cloud solutions can do
 Luckily, there is a solution — the Cloud! Online tools such as Microsoft 365, Windows Virtual Desktop and RingCentral are already helping many companies maintain 'business as usual'.
Microsoft 365 helps to secure staff PCs and provide them with the tools they need to store company data, connect with each other from any device and, ultimately, be more productive.
Windows Virtual Desktop allows you to run all your business-specific applications in the Cloud — meaning you can deploy and scale in minutes while benefiting from the in-built security and compliance features.
Then you have RingCentral Office. If there's one thing we're all missing right now, it's face-to-face interactions with our colleagues — who would have thought?! This cloud-based phone and video conferencing system allows you to seamlessly communicate and collaborate with team members in person (albeit through a screen).
We can help!
 Unfortunately, we can't do much about the coronavirus itself. But we CAN help migrate your systems to the Cloud so that you can carry on as (almost) normal during these uncertain times.
To get you started, we can run a free-of-charge online workshop to:
Evaluate how you work and identify the best way you can move to the Cloud.
Demonstrate how the Cloud can improve your business productivity.
Identify how the Cloud can make your business more agile.
Prepare a 'cloud budget' for you and pinpoint areas where you can save money.
Following this, we can then carry out your cloud transformation project with no upfront costs — as well as lock-in up to two months' free service on Microsoft's Azure cloud platform and secure incentives to move to the market-leading RingCentral cloud phone system.
When this is all over, the current situation is likely to change the way we all work forever. Staff will want the freedom to continue working remotely or flexibly when needed — and you need to be able to provide this.
What's more, companies using cloud IT solutions will likely scale down offices as a result of changing working practices and move online. If you cannot keep up with these changes, you will be at a competitive disadvantage and risk business failure. Just look at what happened to Blockbuster…
To request your free online cloud transformation workshop, please get in touch with the team at salesteam@prodriveit.co.uk today!