With today's government announcement that we should be 'working at home if we can', here are 10 essentials you and your staff need.
Most of us 'made do' when remote working during the first few months of the COVID-19 pandemic. However, that's no longer good enough and for businesses to look professional and reputable their staff expect the right tools to work from home effectively – and your clients expect people to present well when communicating.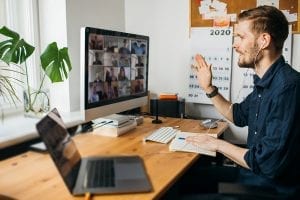 Here's our checklist:
10 business essentials for working at home
Headsets


If you're contacting people using just your laptop speakers for audio, it's possible that they will have difficulty hearing you or you them. Invest in noise-cancelling headsets with microphones for your team – they make your business sound more professional in every way!

Full strength WiFi


There's nothing more embarrassing than losing contact in the middle of a video conference – or not even being able to get onto one (especially if you're the host!). Provide your team with appropriate business wireless access points or WiFi extenders that will remove this problem. For a WiFi extender, we suggest a mesh WiFi network: DON'T use the ISP provided router and don't buy their plug-in extenders. There are many different makes out there, which are easy to set up and rock solid. Contact us for further details.

WebCams


A good quality webcam is essential to present well to clients and business partners. Webcams built in to laptops are poor quality and produce a grainy picture. This will fatigue the people you are presenting to – not great if you are trying to sign a new deal! Invest in a high-quality HD web camera and stand out from the crowd on video calls.

Screens


Your staff may be used to higher-resolution screens in the office – or perhaps using more than one to do their work. It's likely to make them more productive and less fatigued if they have the same at home.

Docking stations


Provide these to simplify the plugging in of laptops to peripherals. Not only does this make life easier for staff who move between home and the office but it helps prevent damage to your laptops.

Powerline Adapters


These use the existing mains wiring circuit in your home to create a high-speed, wired network. Great for when wireless points don't provide enough coverage, or for outbuildings.

​Effective communications tools


If you haven't already, create a group on a mobile messaging app that all your staff have access to so that you can communicate with them instantly. Microsoft Teams is great for this (but check all your staff have the Teams app!). Set up your office phones so that they can be answered by staff working from home. If you don't have a cloud phone system, ensure your numbers can be forwarded.

There has been a massive increase in cyber attacks as a result of criminals taking advantage of poorly-secured homeworking systems. Now is the time to ensure that both your office and home equipment, networks and apps are appropriately cybersecure for your business and the functions your staff perform.

A comfortable office desk and chair


OK, so this is not technology but all the tech in the world is useless if someone is not comfortable when using it. If your staff don't have the appropriate homeworking environment then help them create it – it's a small investment that will pay back many times over.

If you're struggling with any aspect of office or home working, such as risk assessments, business continuity plans, hosting professional video conferences, training staff to feel comfortable using software and understanding cyber security measures etc. – we can help.
Contact us on the form below.